It is pertinent to use a helmet when riding your motorcycle, you, therefore, need a carrier or bag to put it in afterwards. How can you transport your helmet from one place to another? This is where a good motorcycle helmet bag comes into play.
It helps you keep your helmet in a safe, easy and fashionable way. Buying a solid helmet bag is a good way to take care of your helmet. It keeps it safe and secure. A good helmet should be durable, this means that it would stand the test of time and should be used for quite a long period of time.
You definitely need a helmet bag if you want to keep your helmet in top condition. If you're lucky enough to have a good driveway or a safe spot to position your motorcycle in your house, this is good. However, if this is not so, it's almost certainly going to be bumped.
Therefore you need a good motorcycle helmet bag to keep it in the best condition. Keep away from children also, ensure you keep in a safe and confined space. A good helmet bag will protect the coatings on the motorcycle from scraping and also its components from being damaged.
If you're a regular rider or a racer, you'll know that your helmet can easily get scratched if not kept or handled properly. A motorcycle helmet bag may cost a fortune, however, it is a good one as you will get a good return for it. There's no excuse not to invest in buying one to keep your helmet clean and strong.
Protecting your motorcycle helmet is more than simply keeping its elegance, some minor damages can undermine its effectiveness and can sometimes lead to serious injury or death. Not only does a motorcycle helmet bag protect the helmet, but it's also a convenient carrier bag for the apparatus.
You can tuck it under your arm, or it can also be kept at any of the sides of the motorcycle; it can also be kept in the zippers of your riding jacket. Get a firm, comfortable, protective bag and keep your helmet scratch-free and good.
Things to Consider Before Buying a Motorcycle Helmet Bag
Before buying a helmet bag think about these questions; if you tick them all then you definitely need a good motorcycle helmet bag and you should get one.
Some of the questions are:
Is there a secure place to store it

Is there a possibility of damage

Can it be exposed to toxic or corrosive materials

What is the impact of temperature and climate on your helmet
There are various ways in which you can carry your motorcycle helmet bag. You can use a hands-free holding option while shielding your helmet. You can also loop it under your belt. There is also the safety pocket you can use when wearing your helmet. Lastly, you can get a motorcycle helmet bag that comes as a backpack and carry it. 
Features to Look Out for When Buying a Motorcycle Helmet Bag
With helmet safety in mind, getting one with a soft line is recommended. Look for an interior that's not going to trigger an abrasion. It's not just the material texture that you should consider, you should also consider how the helmet is placed. Proper placement can be ensured with a lightweight and tightly sealed helmet bag.
A side pocket is something to look out for as it provides extra storage. Check out if it has waterproof properties also as it prevents moisture from penetrating the helmet liner; thus keeping the helmet safe. We all know that helmets can get all sweaty and hot after long rides, particularly in sunny weather. Therefore check for appropriate ventilation points when purchasing a bag and avoid storing it in hot areas, particularly right after use.
Furthermore, a bag that covers both your helmet and is foldable would allow you to store it properly, so you can get this. In this write-up, we're looking through the best helmet bags in the market. Check out the highlights below and pick a helmet bag that best fits your desires and wishes. Here are the best motorcycle helmet bags.
Best Motorcycle Helmet Bags 2021
Badass Moto Gear motorcycle helmet bag
Badass Moto Gear Motorcycle Helmet Bag is a strong backpack bag. The Badass Moto Gear motorcycle backpack helmet carrier is very durable and versatile. it's a simple carrier that hits all the right notes. The Badass Moto Gear Motorcycle Backpack Helmet Carrier is perfect for good storage and comfortable riding. It is a durable motorcycle bag with flexible belts and reflective tube bar.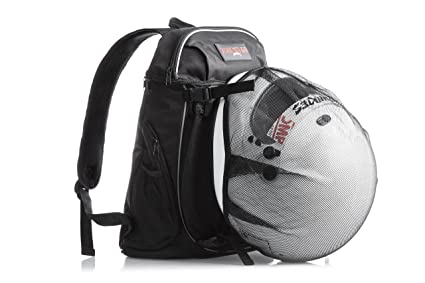 This helmet bag has dual storage compartments with secure zip closures and easy-to-use organizer pockets. In addition, the Badass Moto Gear Motorcycle Helmet carrier also has fully adjustable shoulder braces for a contoured and aerodynamic fit while running, biking or hiking.
This backpack carrier is a top-quality helmet bag with great designs. It completely fits, is sleek and looks great. Overall, it has a good customers rating and sellers rank, from the records, buyers found this to be one of the best day-to-day backpack carriers for your motorcycle helmet.
Pros
It is a padded motorcycle helmet bag

It is durable and strong

It has a good holding power

It is a super quality motorcycle helmet bag
Viking Motorcycle Helmet Bag
Viking motorcycle helmet bag is a backpack. The look and feel of this backpack helmet bag is super just like other Viking bags products. The Viking motorcycle helmet bag is well-padded and it has a 15 cushioned compartment. It has a good height and width strap that can be tailored to most sizes and shapes.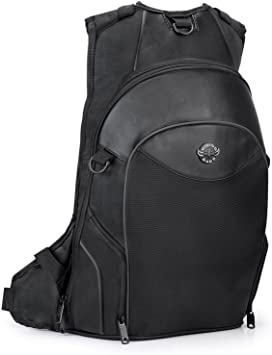 With the Viking motorcycle helmet bag, you can use it as a personal preference when riding. This motorcycle helmet bag helps keep you in shape. The backpack has two small side pockets that are not very large, however, they could be used maybe for credit cards, cash, identity cards etc
Pros
Viking motorcycle helmet bag has durable flex buckles for extra strength.

The Viking motorcycle helmet bag has multiple compartments inside for a lot of everyday things.

Interestingly, it has a nice strap device

It is durable and strong

It is easy to use

It is very versatile
Cons
The backpack has two small side pockets that are not very large
L.M Arev LTD motorcycle helmet bag
L.M Arev ltd motorcycle helmet bag is a little expensive, however, it performs and functions effectively and has a long-lasting time. This motorcycle helmet bag has a protector which duly protects the helmet case of a motorcycle.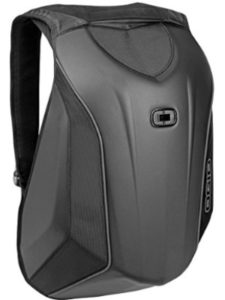 With this helmet bag, you can carry your helmet with you without the need for a motorcycle carrier strap. This high-quality, robust, fashionable and discreet helmet bag is upholstered so that when worn, the helmet is balanced and the weight balances well on the body and fits well.
The L.M Arev LTD motorcycle helmet bag is made of synthetic polyester, padded and has a soft liner on the shoulder. This allows the rider to carry it for a longer period of time, with ease and comfort. It is a very comfortable motorcycle helmet bag, with this your hands can be free. It is really worth its price.
Pros
It is very easy to use

It fits both genders and is widely used

It can readily carry a rider and passenger helmet comfortably and safely

It has an excellent weight balance so you don't notice the weight of your helmet
Oxford Lidstash Motorcycle Helmet Bag
The Oxford Lidstash Helmet Bag covers the outside surface of your helmet with its inner fabric. It is cost-effective. It is a good motorcycle helmet bag with dual-sided sleeves.
It is a very versatile motorcycle helmet carrier or bag. It has good sellers rank and customers ratings.
Pros
It possesses Dual-sided fleece

It has removable shoulder straps

It is versatile
Cons
It is not suitable as a backpack
Ogio motorcycle helmet bag
Ogio motorcycle helmet bag comes from a range of motorcycle helmet bag type that particularly fit one's tastes and needs. This helmet bag has a wide main compartment with several interior storage compartments. It is well-padded and has fully adjustable shoulder straps with quick-release outlet buckle.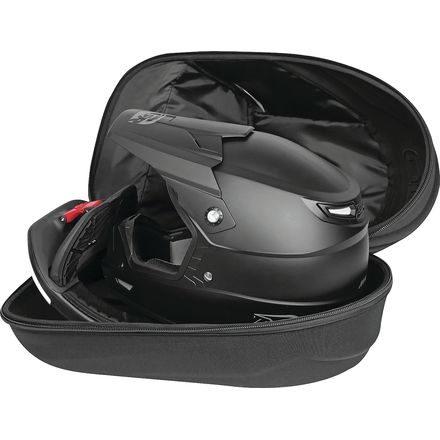 It comes as a backpack, which well suits your motorcycle helmet. Interestingly, the Ogio motorcycle helmet bag comes with a protective pocket, while the interior linen features are coloured red.
This backpack carrier is made of composite materials and is quite big enough to hold your helmet appropriately and in shape. It is more suitable for riders who travel than for college students or those that ride a very short distance. The Ogio motorcycle helmet bag or carrier is very comfortable.
Pros
The straps can be easily removed and adjusted for better carriage.

It has just the perfect balance

It has good, secure and safety pocket

It is perfect for a long ride or travel
Cons
It can sometimes need to be patched after long use
MOTOGP Messenger Motorcycle Helmet Bag
The MotoGP Messenger bag is a plain zip-up helmet bag with an interchangeable shoulder strap. It's perfect for those who want a low-cost option for transporting passengers' replacement helmets or keeping their helmets.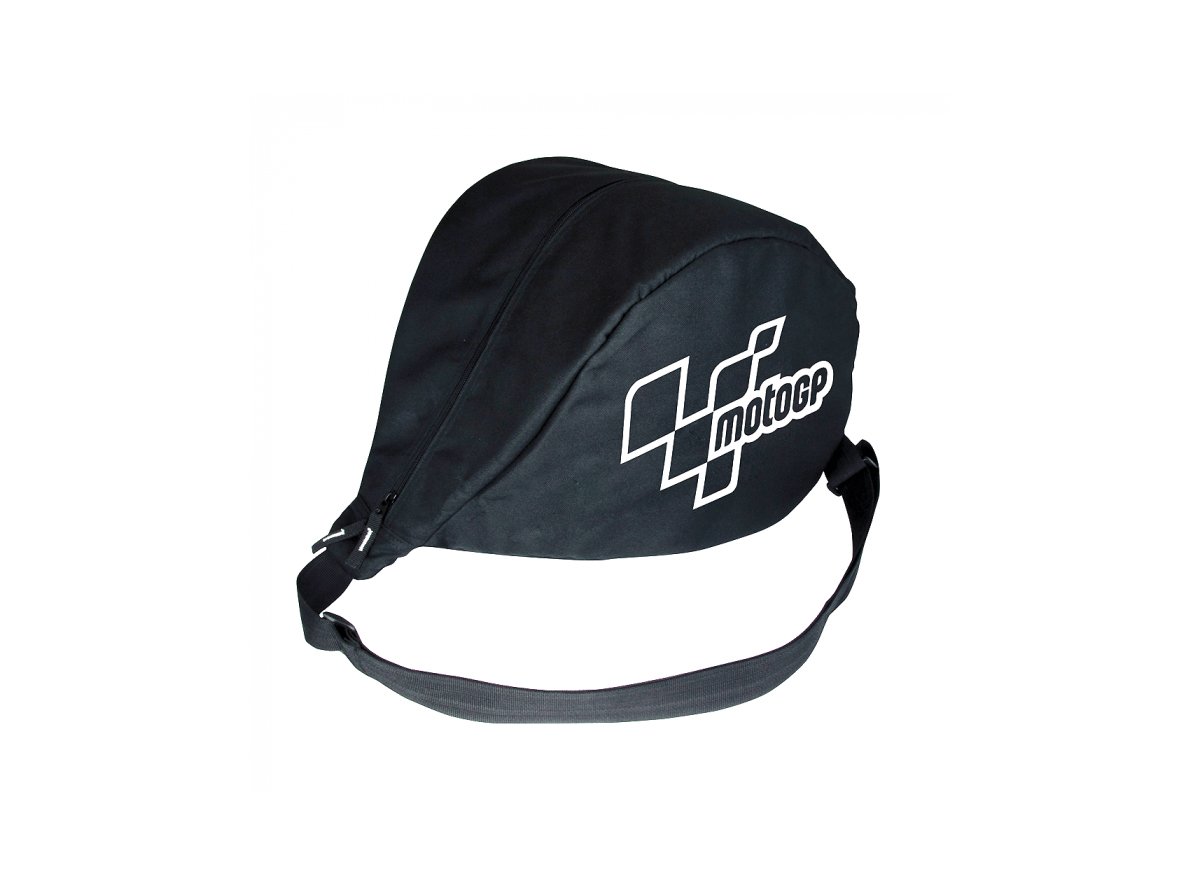 This Helmet Bag from Moto GP has no frills, it is just a good fix.
Pros
It is very cost-effective. 

It is easy to store or carry

It has an interchangeable shoulder strap
Cons
It has only one carrying option

It has no pockets to put added accessories
R&G Racing Deluxe Motorcycle Helmet Bag
The R&G Racing Deluxe Helmet Bag is described as rugged and sturdy, but compact enough to fit under the rider's seat. It has two carrying options, you can either sling it over your shoulder using an elastic strap or use a fixed carrying handle to carry it.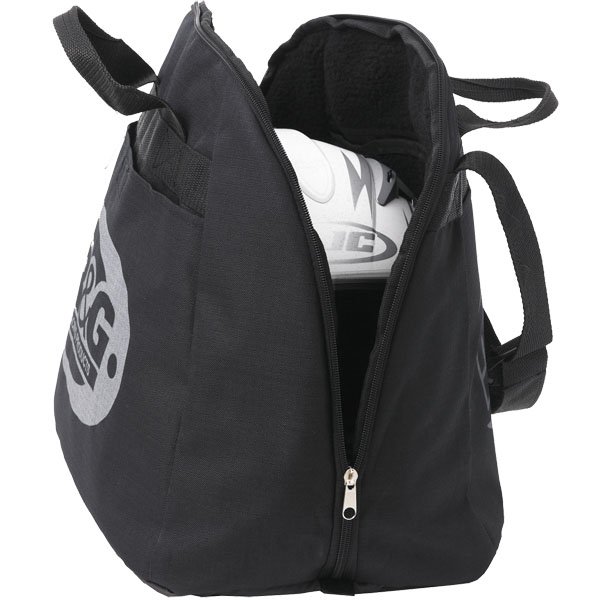 It is described as a helmet safety bag, its specific features make it an excellent travel or long ride bag. It goes for a good cost, it is worth its price. It has a good customer rating and also a good sellers rank.
Pros
It has a strong exterior

It has Inside and outside pockets

It has two carrying options
Cons
It cant be worn as a pack back
RST Motorcycle Helmet Bag
The RST Helmet Bag is a sleek, black and red neoprene carrier or holder. RST motorcycle helmet bag has a very good soft interior liner to avoid rubbing and comes with a reversible shoulder strap.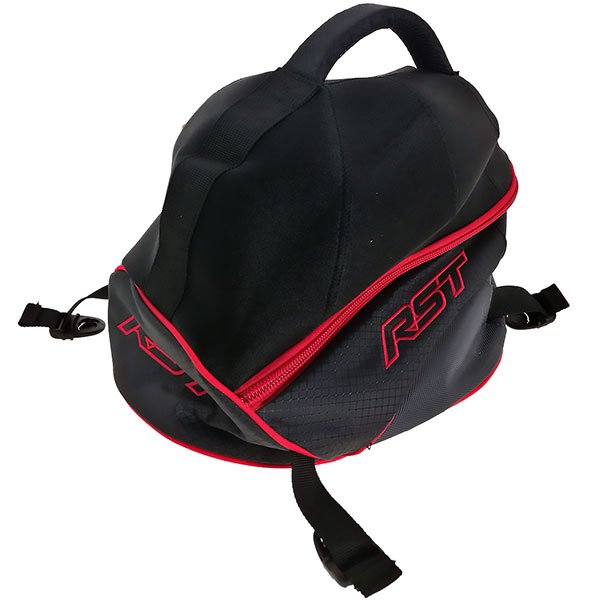 This helmet Incorporates different small pockets that contain earplugs or IDs, etc. that can aid or complement a good ride.
Pros
It has a Neoprene and polyester construction

It has extra pockets for holding attachments and other essentials
Cons
Its high quality and specifications give it a more expensive price some may not be able to buy or purchase
Conclusion
When choosing a motorcycle helmet bag make sure you buy the best and high-quality motorcycle helmet bags. I highlighted above the best motorcycle helmet bags, take a look, make a choice and enjoy as you use it. With these motorcycle helmet bags, you will get a great deal for your money.
Your helmet is of immense value and should be given the best possible treatment. The key thing to consider when buying a helmet bag is, 'What do I want to use it for? Solo riders are likely to use it to hold and store while they don't ride their bikes. If you have a long walk from one point to the other, you also need a motorcycle helmet bag; preferably one with a good waterproof liner.
When a helmet falls from height or it is unduly exposed to heavy impacts, it does harm to the helmet; thus the need for a good helmet bag. While riding ensure the bag does not move about, distract or prevent the rider from riding or pose a safety problem to others. With this everyone will have a safe and exciting ride, this is how it should be. Get your motorcycle helmet bag today and keep your helmet in the right condition.